With the summer holidays fast approaching, if you have kids then chances are they are going to be home a lot for the next few months. I'm sure you want to keep them as occupied as possible and get them outdoors to make the most of this great season, but if you are at work a lot then you won't be home to make sure each of their days is jam-packed with fun. So why not invest a little time into making an outdoors cubby with your kids and then they'll have somewhere to play and really make their own over the holidays. All you'll need is some simple DIY tools and materials you can ether buy for salvage.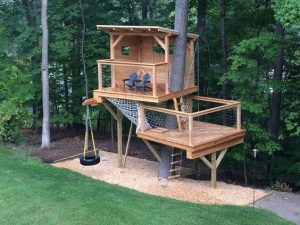 Getting the kids involved
Get your kids excited about the project by enlisting their help in generating ideas, after all this is a cubby for them, somewhere they can play for hours every day so you want to tailor it to their needs and likes. You can take their ideas which are probably quite grand and help them see how you can scale it back to be something achievable and to fit into your yard, you're not going to be able to build a tree house if your yard does not have any trees! Planning this project with your kids can give you some quality time together as well as being a fun activity that gets every ones creativity going. And then when it is time for the actual building, fitting out your kids with some tools and hard hats will really make them feel like a part of the team and very proud of their new space knowing that they contributed to it.
Cubby Types
If you're having a few mental blacks about what kind of cubby or tree house would be suited to your yard then stress no longer, we've put together a list of some different kinds of cubbies to suit every backyard and every budget. Remember, cubbies do not have to be massively expensive things.
The Tree House
If you're lucky enough to have some bigger trees in your yard then have a think about building a tree house with your kids. Kids love being up in the branches naturally and to make a space that is just a little more unreachable for adults is something that will make it extra special for them.
To start with you will need to decide if you want to have a cubby that is grounded but wrapped around a tree or if you want to have the tree providing the main structural support for your cubby. If it is the latter you will have to make sure your tree is big and strong enough to support a fair bit of weight, even though children are small, get a few of them up there and the weight may dramatically increase. Safety really needs to be the base of your building.
If you do choose to have a tree house that is up in the branches, start by designing the house around the tree. Make sure if it is up higher than a meter that you have proper railings on the cubby to lessen the chances of falls. Things like rope ladders and trap doors are great added extras, it's the little details that kids will love.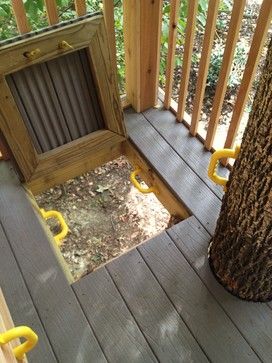 There are plenty of tree houses you can do that have their foundations on the ground if your trees are not tall or strong enough but you still want to incorporate that element of nature into them. Design a base that can easily fit around your tree/s and to give it that tree house feel you can still make it higher up so that to enter kids will have to climb up a rope or wooden ladder.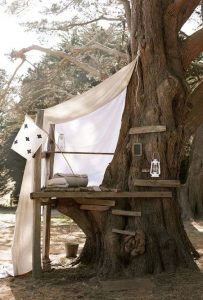 These kinds of tree houses can be more on the expensive side, requiring more timber and supports for safety and quite time consuming as building anything off the ground will require a bit more effort, but if you are on a budget and want to be building something up in the branches there are other ways to make simple tree houses. If you have a bigger based tree with some great wide branches on it how about start with making a simple platform. Using pieces of wood nailed straight into the trunk you can quite easily make a ladder and then a small platform between branches. Even a simple frame like this can be captivating to children and if you don't have the materials for a roof, try draping some old canvas or even sheets in the summertime to give it a bit more of a fort feel.
Free Standing Cubbies
If a tree house is not a viable option for you then try out a freestanding cubby. You can make a basic square or rectangular base and then build on from there. Consider if you want an enclosed space or more of an open fort style. If you are going for the enclosed look make sure you still have plenty of airflow coming through. Closed in cubbies that are not sealed properly can really let damp in and end up smelling not so great if left unattended. Get creative with your windows shapes and door openings. Your freestanding cubbies can still off the ground and provide creative ways of getting in and out. Think about spider webbing type ladders or even rock wall shapes to make an extra fun entrance.
There are a few different twists you can put on the usual cubby house type shapes. Consider an A-frame house. You can make this all from timber or even from tin or leftover roofing you may have around. An A-frame cubby is a simple structure to build and gives more of a camping feel to the playhouse that kids will love. You can even put some curtains up as an option for a doorway if you do not want to fully enclose it.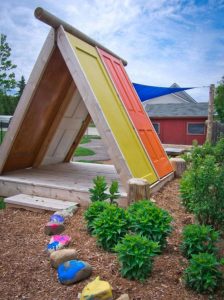 If you do have a strict budget or a tiny yard which does not allow enough space to put a full-sized cubby, consider putting up some smaller shelter structures that will still allow young kids a chance to have their own little hideout. Putting four old door frames together on a simple A-frame shape can make a permanent tent-like structure which little kids will love crawling in and out of. You can do this directly on grass or create your own wooden platform for this to sit on. A project like this can be done in a day and the effects are just wonderful. Even putting up a simple A-frame, frame or an open rectangular design that can be covered with canvas or tarpaulins can be a fun space for kids to create in.
Creative Ideas
Pulley systems can be easily made with a pulley and some rope, simple things you will have lying around the home. Attach a basket or bucket to one end so that kids can bring items up easily into their new home, you will be amazed at how much fun they will have sending things up and down.
Chalkboards are another add-on that can really boost a cubby, kids love writing notes or signs, and a firmly attached bucket can be placed alongside the board to keep in chalk and rag dusters.
Hanging swings off the sides of your cubby can provide some entertainment; regular rope or tire swings are a fun way to go. While adding a hammock inside or even underneath, if your cubby is on stilts, can make a great relaxing area where the kids can enjoy some outside downtime.

Upcycling
Another way you can determine the kind of structure you want to make for your children is by looking at what you already have. You may have a whole pile of scrap wood, and old ladder or used windows. Take a look at these things and see if you can incorporate them into your building to make something really unique and inexpensive. You can also have a look at your local tip shop for any salvaged materials. You may just be inspired by something you see there and your cubby could take on its form to incorporate your key piece.
Cubby Interiors
To complete your kid's cubby you'll probably want to have it slightly furnished. If you want to put in cushions and mattresses or even curtains have a think about using sturdier fabric that is more weatherproof than your average inside cushion. These items will no doubt spend some time out in the elements and even if your cubby has a roof on it they are sure to get all manner of dirt and moister on them from kids play, so choose colours and fabrics that are hardier and so you won't have to wash them every other weekend. If you want to add any furniture be mindful of overcrowding, what kids want is more or less a blank space where their cubby can be a pirate ship, doctors surgery or a shop. Think about this in the design as often a plainer cubby can allow for more imaginative games and experiences.
Design with imagination
Take your time to work with your kids and really design using your imaginations and thinking about what you already have to work with and your existing space. Even the smallest or yards will have room for a little playhouse or cubby and over the years who knows what they will be able to grow and expand into. Remember to look for recycled goods and reclaimed timber to make an eco-friendly, cheap and unique option when creating your kid's masterpiece. A cubby is something your kids will have fun in for years to come and will get them out into the outdoors and enjoying nature while using their imaginations.