Who doesn't love a good DIY project! There's something so satisfying about really sinking your teeth into a project that will help beautify or make your home that much better. From building a kids cubby, putting up a pergola, or just fixing some leaking drains, if you want to be able to handle it yourself then it's important you have all the right tools to get the job done. Nothing is more annoying than having to ask your neighbor for this drill or that spanner set. So we've outlined a few of those tools that are must-haves to have in the shed for when those do it your self, projects come up. Take a look below and make sure you're DIY equipped this year!
Hammers
A good hammer is one of the first things you should make sure you have in your DIY toolkit. There are actually a few kinds of hammers to take your pick from such as the Ball Pein Hammer, which has a rounded side to it that is best suited for closing rivets and shaping metal, and the Cross and Straight Pein, also used a lot for metal work. But the hammer we'll focus on is the most regularly used claw hammer. This is the most useful for your every day around the house needs. It can come with a wood or metal handle that can feature a rubber grip. The claw on the hammer has an inside V shape to it that is created for drawing out nails from wood, and a slight curve so you can really get some leverage.
When you are looking at hammers make sure to give them a good firm hold first, see what weight feels best in your hand and what kind of grip you prefer. Here are a few of our favorites.
High End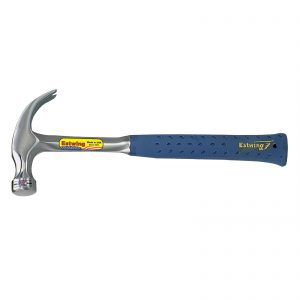 Estwing 560g / 20oz Vinyl Grip Claw Hammer
The Eastwing's Steele curved claw has second to none balance and temper. The head and handle are all forged as one piece and it features a shock reduction grip that is perfect for comfort if you're using it on one of those long jobs. This hammer is used by professional tradespeople and is a great addition to the toolkit if you think you'll be giving it a lot of use.
Mid Range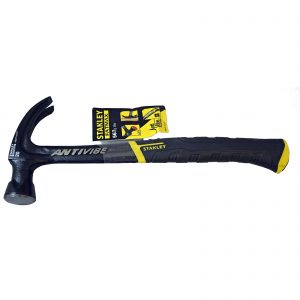 Stanley FatMax 20oz Antivibe Hammer Claw
Another one piece Steele hammer has a special 25% larger than average strike face to make it just that much easier to contact your target. It comes with a soft handgrip and an anti-vibe tuning fork to dampen vibrations.
Best Budget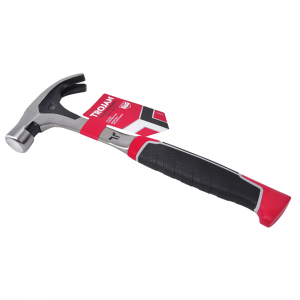 Trojan 16oz Steel Claw Hammer
The Trojan is a great budget buy, it drives nails in with ease and has a useful extracting claw. Great for your everyday small project the Trojan has an induction hardened carbon steel head and a lightweight fiberglass handle with an anti-slip grip on it.
Spanner Set
Next up on the list is a spanner set. Spanners are those tricky little things that you never seem to have the size you need right when you need it! So buying a spanner set (and making sure you don't misplace them) is key for your DIY toolbox. Have a think about how much you will find yourself using spanners when you think of purchasing one. No need to buy top of the range if they are only pulled out for small jobs once in a blue moon.
High End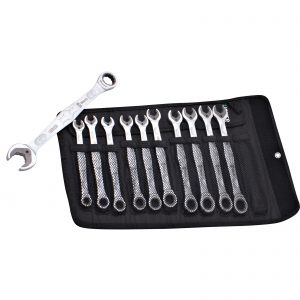 Wera 11 Piece Joker Ratcheting Combination Wrench Set
This is a combination rachet/spanner set and it is for the serious DIY master as it comes with a pretty large price tag, but you certainly get your money's worth as this combination kit allows you to do a whole lot more. With a special 30-degree return angle these are the spanners you'll need for those tight spots. It's unique holding function that cuts out the risk of dropping and nuts or bolts which can so often be the case. The metal plate in the jaw is responsible for this mechanism and can be replaced. It has a ratchet mechanism on the ring end which has 80 fine teeth which come in handy when working in tight spaces. Made from chrome molybdenum steel with a nickel chrome coating, this kit will not be corroding anytime soon and with care and maintenance will be a set to pass on to the grandkids.
Mid Range
Stanley 22 Piece Metric / AF Spanner Set
This set is a great medium range buy, not too expensive, the 22 pieces give you a spanner for every occasion. They come in Full Polish Chrome and have both Metric and AF. Stanley Spanners are heat treated to be strong enough for repeated use. What you need for those maintenance projects around the home.
Best Budget
Craftright 5 Piece Spanner Set
This five-piece set is perfect if you only use a spanner every so often. These sizes (8, 10, 14, 15, 17mm) will fit most average nuts and bolts and are drop forged. They are heat treated and chrome plated and won't take up much space if you only have a small workshop.
Screwdriver Sets
Screwdrivers are another one of those things that are best to buy in sets. As screws come in all different kinds and shapes, it's good to have the right one on hand when you need it. The main types of screwdrivers are Slot or Flathead, which have just the one flat edge and Phillips, which feature a cross design. Most screwdriver sets will have a mixture of these, but it's always best to double-check they are the right ones for the job. From master sets to the basic starter kits here are our go-to buys.
High End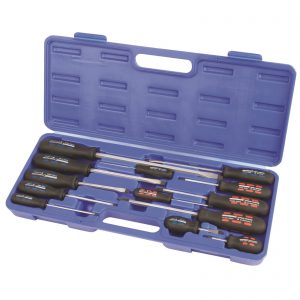 Kincrome 12 Piece Thru Tang Screwdriver Set
These screwdrivers are designed for hard use. The cellulose acetate handle gives it a strength and durability that is second to none. It features a continuous Thru-Tang shaft and a striking end cap which is made for hand hammer blows. These screwdrivers also feature magnetic tip for helping keep your screwdriver attached the screw and minimize drops. The Kincrome screwdrivers also come with a hexagon shaft that helps a spanner attach for those times you need some extra force it trying to get out a stubborn screw. This kit is what you need if you have a lot of DIY going on around the house and garden.
Mid Range
Trojan 26 Piece Screwdriver Set
A combination of slot and Phillips, the Trojan set offers not only regular screwdrivers but also a precision range which is great for driving screws that have special slots. The go-to kit for the around the house handyman they also offer a magnetic tip, to keep those screws in place, a nonslip handle and are made of Chrome Vanadium steel which offers durability and strength. With an easy carry case, they'll stow away perfectly in your shed.
Best Budget

Stanley 6 Piece Screwdriver Set
To get you started into the world of home improvement is the Stanley six-piece screwdriver set. This comes with four Phillips and two slot/flathead drivers in the most common sizes. There is tip identification on each one so if you're just starting out there's no need to be confused! They have a good grip on them and the shafts are made of high alloy chrome so even for the small price tag they are still a sturdy product. Hanging holes are a little added bonus to make them easy to store, as they don't come with a case. The perfect starting kit for the soon to be the DIY maverick!
Pliers
In any toolkit, Pliers are a must. Pliers are used for a range of things, gripping, twisting, cutting, straightening and bending wires and cables. There are a few different types also, the long nose, sidecut, diagonal and griplock. But our main focus is on the good old combination pliers, a great all-rounder.
High End
Crescent 200mm Insulated Universal Pliers
Coming with insulated grips, a crimper, and precise jaw gap, as well as being a good all-rounder, these pliers specialize in wire work. They feature insulation for 200mm 1000V High Voltage and a serrated pipe grip. These are for the handyman who knows what he's doing.
Mid Range
NWS 205mm Combination Pliers
These German-made pliers feature an inductively hardened cutting edge ideal for cutting through the toughest wires. Asymmetric inside jaws help you get a better grip. They include an integrated ring spanner and multicomponent sleeves on the handle for a more comfortable use over long periods of time.
Best Budget

Craftright 200mm Combination Pliers
The pliers are made from vanadium steel and have a soft gripping handle. A simple product at a great price so there is really no excuse not to have a pair on in your toolbox.
Saws
A basic saw is a must-have. For trimming off wood and cutting things down to size, a good quality saw is something you'll always use.
High End  Bahco 500mm Precision Hand Saw
A professional level handsaw, the Bahco Precision it great for getting through both fine and thicker materials with ease. A great feature of this saw is its adaptability to mitre guide sawing. Featuring 9/10 TPI hard point teeth, this saw stays sharper for longer. The Bahco Precision Hand Saw gives a great professional finish for those larger DIY projects
Mid Range

Spear & Jackson 500mm Predator Hand Saw
The Predator Hand Saw is perfectly suited to those trimming jobs with wood and plastic pipes. A .91mm blade keeps the saw ridged and cuts down on vibration and whip so you can get your cutting done fast without compromising on precision. A good and reliable blade for its price point with a nice soft handle will make using it easy.
Best Budget

Irwin Jack Plus 338mm 8PT Hand Saw
Featuring a nonslip comfortable grip handle and razor sharp tooth design, this saw will work perfectly well for you basic push and pull saw jobs. Made from .85mm premium cold rolled steel and surface treated for rust resistance this is a great beginning saw.
Tape Measures, levels, and Squares
These are really some of the first things you should have in your kit. It's no good hammering in nails if you're doing it at the wrong height or sawing your wood on the wrong angle! Pretty self-explanatory tools, we've put down some great quality ones with prices to match.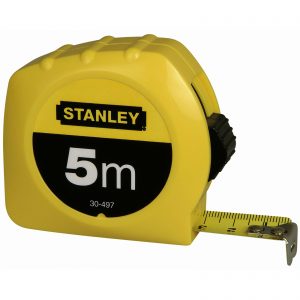 Stanley 5m Tape Measure
Your Stanley Measuring Tape is a great sturdy medium range tape. With belt clips for easy sliding on and off use and a polymer coated ¾ inch blade. This measure is a must have for your toolkit.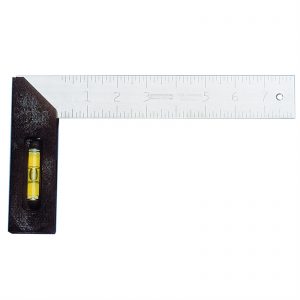 Empire 200mm Polysteel Try Square
At a reasonable price, the Empire Try Square has a mini level in its handle which gives it great dual use. It features a stainless steel blade, which has metric graduations on both sides.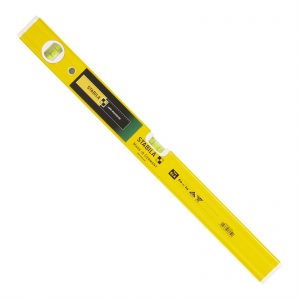 Stabila 600mm Spirit Level
A spirit level is something worth investing in. Getting a correct level can be vital to some of your DIY and home improvement projects. That's why you need a great reliable product like the Stabila Spirit Level. It has a 300-degree visibility horizontal vial and shock absorbing end caps to help protect it. Electrostatic stable vials mean high accuracy and you can't beat that German precision!
Drills
Finally, we come down to drills. Those wonderful machines that make DIY work just that much easier. These days there is such a great range of drills to suit all purposes. Cordless drills for home improvement projects really are the way to go.
High End 
Bosch 18V Cordless Drill Driver
A powerful motor and a sleek design, The Bosch PSR 1800 is a great drill to have for those bigger DIY projects. Coming with 2 x 1.5 AH Bosch Smart Lithium-ion Batteries you'll always be charged and ready to go. An LED power light makes it great when trying to get into corners and dimly lit areas. The Bosch has 20 torque settings plus optimum power drill settings. Its also features Electronic Cell Protection which protects it against overheating and tool overload. Even with 2 high-performance speed gears, the Bosch is still lightweight and easy to use.
Mid Range

Ryobi 12V 1.3Ah Drill Driver Kit
This is your perfect midrange drill for those at home fix-up jobs. Also featuring an LED light and configurable clutch settings this is a compactly designed drill that packs some punch. A 10mm keyless chuck makes switching drill bits easy and soft grip technology make sit a pleasure to hold. A great drill for its price bracket.
Best Budget

Ozito 710W Hammer Drill
If you don't get much time to do big projects out in the garden or around the house but need a drill just for those occasional fix-up jobs then the Ozito Hammer Drill is the one for you. It has a great drill depth preset to make sure you don't go deeper than you need to, and variable speed so you can adjust the drill to what materials you will be using it on. I can be used just as easily for right and left-handers with its special 360 side handle and comes with a startup kit of eighteen drill bits. Great for all that light DIY work around the home.
Get Going!
Now you've got your DIY essentials you can start up all those projects you've been dreaming of around the house or in the backyard. Get that back patio happening or the roof extension. Spend time designing clubhouses with your kids or just patch up some of those leaks!
Always be mindful when doing DIY jobs, of safety and that when it comes to electrical work its best to consult a professional.